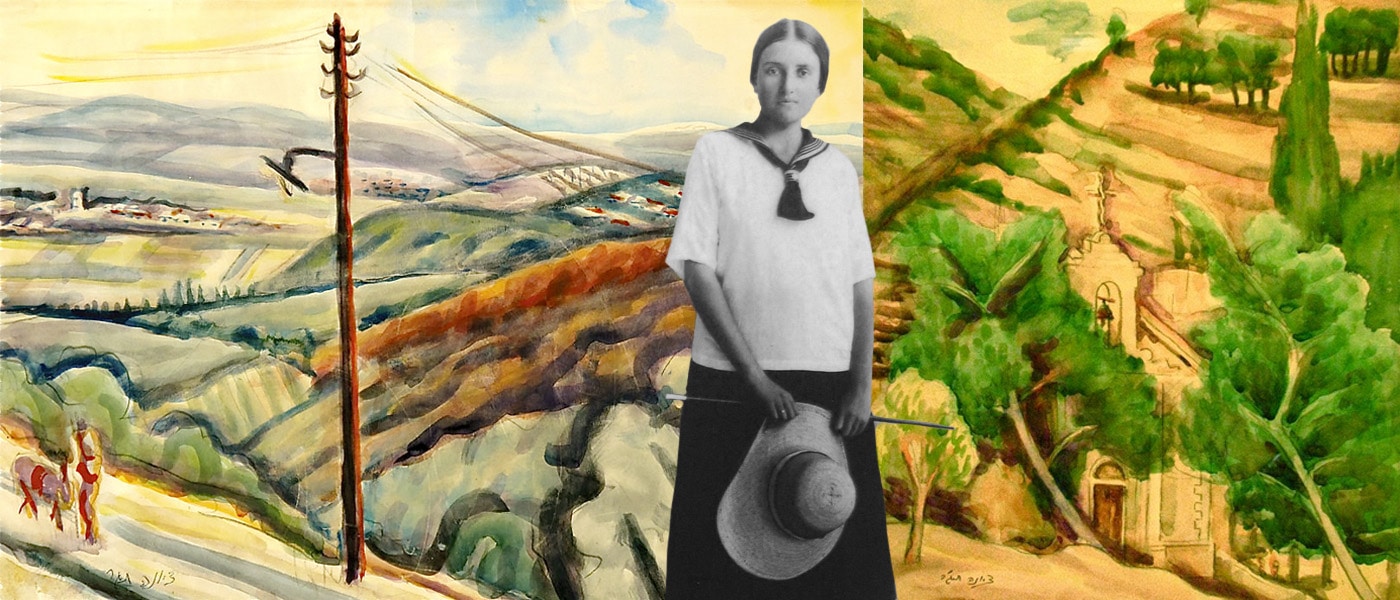 Sionah Tagger - Biography and artistic career
Father's House
Sionah Tagger was the eldest daughter of Shmuel and Sultana Tagger. As members of the Ahuzat Bayit group, Shmuel and Sultana were among the founders of Tel Aviv. Their house was located at 3 Rothschild Boulevard, and was the first two-story house in Tel Aviv.
The Tagger family's origins go back to Spain. Following the expulsion of the Jews from Spain in the late 15th century, the family moved to Holland, and later to Germany and to Bulgaria. The Tagger family has numerous branches, and includes 74 descendants – children, grandchildren, great-grandchildren and great-great grandchildren.
Shmuel Tagger immigrated to Palestine in 1868 from Bulgaria, while he was still a child. In 1890, the 22-year-old Shmuel married Sultana, the daughter of Yeshiah Becher-Yeshiachi, a wealthy resident of the Old City in Jerusalem.
After their wedding, the young couple moved to Nahalat Shiva, a new neighborhood outside the walls of the Old City. They then moved to Jaffa, where Shmuel set up a business importing furniture and trading in leather. An observant Jew, he took an active part in establishing community services, and was involved in the founding of Jaffa's central synagogue, Kehilat Ya'akov, and of the Ohel Moed synagogue in Tel Aviv.
Sionah Tagger had seven brothers and sisters – Asher, Baruch, Miriam, Shoshana, Hezkia, Shalom and Yosef. During World War II, four of her brothers joined the British army. Sionah Tagger also spent two years serving in one of the British army's ATS divisions. She served mainly in Egypt and in the Western Desert.
Shmuel Tagger died in Tel Aviv in 1957, at the age of 89. His wife Sultana died in 1949.
Family
Sionah Tagger has nine great-grandchildren, three grandchildren and one son, Avraham Katz-Oz.
During the 1930s, Bat-Sheva and Yitzhak Katz's Tel Aviv home served as the committee house for the country's painters and sculptors, and as a bohemian meeting place for journalists, poets and artists. At that time, Yitzhak Katz was an art critic for the Ha'aretz newspaper. He was the first to dare and criticize the Bezalel School, and the manner in which it had shaped the curriculum at the Bezalel Arts and Crafts School.
Sionah Tagger and her painter friends Rubin, Lubin, Agadati, Zaritzki, Celiyuk and Litvinovsky – the local art world's first rebels – met regularly at Katz's, and discussed the development of local art with bohemian passion. It was here that Sionah met Michel, Mordechai Katz – Yitzhak Katz's brother, and this meeting led to marriage.
Their son Avraham Katz-Oz, known to his friends as Katzele, was born in 1934. Over time, he came to serve as an Israeli government minister, MK, and chair of the National Lottery and the Council for a Beautiful Israel . He was also one of the founders of Kibbutz Nahal Oz.
His wife, Ilana Kretchmer, was born on Kibbutz Genigar and grew up on the moshav Neta'im. She later earned an MA in Literature. As a member of Nahal Oz, she was the director of the Sha'ar Hanegev regional school, and went on to hold a senior position in the Ministry of Education.
Ilana and Avraham Katz-Oz have two sons, Gur and Uri, and one daughter, Rakefet.
All three served in the IDF. Gur is married to Keren Doron, and they have three daughters and a son. Uri is married to Pazit Manivelovitch, and they have two daughters and two sons. Rakefet is married to Oren Cohen, and they have three daughters.
Sionah Tagger did not live long enough to know her great-grandchildren; she did however take great pleasure in her grandchildren, and even dedicated some of her paintings to them.
Study
Written by: David Tagger
Sionah Tagger was born in Jaffa on August 17, 1900. She was the eldest daughter of Shmuel and Sultana Tagger (Tagier). During her childhood, Sionah attended the School for Girls in Neve Tzedek, the Levinsky Teachers Seminar and the Alliance School in Jerusalem.
Sionah Tagger's first art teacher was Avraham Eisenstein-Aldema, one of the country's early bohemians. She continued studying art at the Tel Aviv high school Gymnasia Herzliya, at Yaacov Ferman's studio "Hatomer." Yosef Constantinovsky (Constant) and Yitzhak Frenkel were the most important painting teachers at the studio. Both instilled in their students the spirit of Russian Futurist Cubism, which was based on French art; and both were opposed to the the academic, romantic style of the Bezalel School.
1921, Sionah began attending the Bezalel School of Arts and Crafts in Jerusalem, and was one of the students who protested against Boris Shatz and Abel Pann's conservative aproach. Sionah first displayed her works at the "First Artistic Exhibition" organized by Ferman at Gymnasia Herzliya in Tel Aviv. In 1924, with the support of her family, Sionah traveled to study painting in Paris, where she was exposed for the first time to French and European art and to various strains of modernism.
Sionah Tagger began attending the painting academy run by André Lhote, who belonged to the Cubist group "The Golden Ratio." She went back to studying the basics of sketching, composition and color. At the beginning of the 1930s, she returned to Lhote for an additional period of study, and also attended the Académie de la Grande Chaumière.
After two years, Sionah returned to Israel and joined the local group of modern artists – Feldi, Rubin, Zaritzky, Lubin, Shemi, Gutman, Glicksberg and Litovinovsky. The exhibitions they organized at the Ohel Theater, at the Tower of David in Jerusalem and in other venues were all widely acclaimed. In 1931, Tagger held a solo exhibition at Gymnasia Herzliya in Tel Aviv, which was titled "Framed Portraits." Sionah also participated in several exhibitions in Paris. In 1938, she even exhibited her paintings in Cairo, at the Friedman-Goldenberg Gallery. In 1951, her works were featured in a solo exhibition at the Jacques gallery in Paris, which was titled "Israeli Landscapes." In 1960, a retrospective exhibition of Sionah Tagger's works was staged at the Helena Rubinstein Pavilion, Tel Aviv Museum of Art. In 1978, Sionah participated in an exhibition of Israeli art staged by the Tel Aviv Museum of Art in honor of the country's 30th anniversary.
In 1948, Sionah Tagger represented Israel at the Venice Biennale. In 1950, she returned to Paris to paint. In 1952, Tagger was a member of the group of important artists who founded the artists' colony in Safed, and she began spending her summers there while continuing to live in Tel Aviv most of the year. Tagger was also an active member of the Painters' Association, together with the painters Zaritzky, Shmidt, Kastel, Glicksberg and Sigrid.
Sionah Tagger held over forty solo exhibitions; she also participated in numerous group exhibitions, and two albums of her paintings were published by Massada Publishing House. After her death, her son, Avraham Katz-Oz, initiated the organization of two retrospective exhibitions of Tagger's works. The first took place in 1990 at the Tefen Open Museum in the Western Galilee, and was curated by Amos Kinan and Hanna Koppler. The second retrospective took place in 2003 at the Tel Aviv Museum of Art, and was curated by Carmela Rubin. The Tel Aviv Museum published several editions of the catalogue that accompanied this important exhibition – which was organized by Professor Mordechai Omer, the museum's director and chief curator.
In 1992, a comprehensive exhibition of Tagger's paintings on glass was organized at the Hecht Museum in Haifa by Ofra Gouri-Rimon.
In The British Army
In 1942, Sionah Tagger volunteered for the British Army. World War II was at its peak, and the Jewish population of Mandatory Palestine was in danger.
At that time, she was already the mother of eight-year-old Avraham, who would later to become MK and Minister of Agriculture Avraham Katz-Oz, one of the founders of Kibbutz Nahal-Oz.
Along with over two thousand other Jewish women, Sionah was recruited into one of the ATS divisions. Initially, the women filled various office roles in Alexandria, Egypt. They were later also trained as ambulance and delivery drivers.
Other volunteers worked in military hospitals and military warehouses, and even served as military police officers in the British Air Force. They were organized into 12 divisions, which served in Egypt, Lebanon and even in Italy and Austria.
In 1944, Sionah was released from the army and returned to Tel Aviv, where she held a large exhibition of her paintings in the lobby of Habima Theater.
The exhibition included 40 oil paintings, 30 watercolors and sketches depicting the experiences of female soldiers in the British army.
Live in Tel-Aviv
Describing the early days of Tel Aviv, Sionah Tagger wrote: "A new spirit pervaded all of the arts, a generation of pioneers unlike their predecessors. There was great daring and a great vision. Living conditions were difficult, but the atmosphere was pervaded by an electrifying joie de vivre."
Indeed, the Jewish painters, writers, sculptors and poets who flocked to the young city were in high spirits, and their lives were filled with activity. Enthusiastic gatherings took place in cafés and bohemian salons. Groups of artists passionately discussed the future of local art and poetry, theater and literature.
Not far from the home of Hayim Nachman Bialik, Shlonsky, Rubina, and Tagger, Zemura Meskin, Agadati and many other fine artists gathered in the cafés on Allenby Street (Sheleg Halevanon, Ratzky, Bader) and in the homes of the poet Esther Raab and of the art critic Yitzhak Katz and his wife Bat-Sheva. They argued about the works of their fellow painters and actors, and planned the annual Purim parade, which was orchestrated by Agadati. Uri Zvi Greenberg wittily described these meetings in the art and literature review "Gazit," and Avigdor Hameiri captured them in his poems and articles.
"They were looking for something new," Sionah Tagger wrote. "They were members of a generation that was educated abroad, and they brought with them a knowledge of foreign literature and poetry. They wanted to recreate it all in this country. Later on, we moved to the Kassit café. We would go out to paint landscapes in various locations throughout the country. They painted in Motza, in Ein Karem on the road to Jerusalem – Tagger, Mokdi and Hanna Levi. Zaritzky led us to Zichron Ya'akov, Castel reigned in Safed, and Marcel Janco established himself at Ein Hod."
The relationships among these artists were friendly and romantic, uplifting and intoxicating. Sionah painted her large portraits of the poets Avraham Shlonsky and Uri Zvi Greenberg and of the painters Reuven Rubin and Eliyahu Noyman. She painted her brothers and sisters; her mother Sultana; and Haganah commander Avraham Ikar, who was married to her sister Miriam. She captured the city's youth, its writers and actors, and the urban landscape of this small city, which grew at a dizzying pace. And the young city, of which her father was a founder, returned her love.
From Safed to Eilat
Written by: Ofra Gouri - Rimon
Sionah arrived in Safed in 1951, and purchased a nineteenth-century church at the heart of the city's Christian-Arab neighborhood. Like the other Arab neighborhoods in Safed, this neighborhood was abandoned by its residents on May 10, 1948 – the day Safed was liberated by the Israeli forces. A short time after she bought the building, Sionah
related that a priest had come to the house to carry off the bell that had been located in the church's bell tower. Describing her first days in Safed, Sionah
wrote (Sionah Tagger, 1981):
"The views and alleyways lured painters to Safed. In the evenings we would walk around the city and talk about art. After Castel came Isakov, Shemi, Frankel, Marzer, Holtzman, Amitai, Lerner, Zachs and myself. We had no electricity during the artist's colony's first days, and so we used oil lamps instead. Our parties were all illuminated by the light of an oil lamp, and each one of us would tend to it in turn. Water was also scarce, and so we would carry water in cans from the dormant spring located in the artists' colony."
Some artists moved permanently to Safed and lived there year round. Others arrived only in the summer and during the holidays. The latter group included Sionah, who could not give up Tel Aviv:
"In the summer, I lived in the artists' colony in Safed. I love Tel Aviv and would never replace it with anywhere else in Israel – even if from a painterly perspective it is a regular modern city. Yet in contrast to the ancient cities of Jerusalem, Tiberias, Safed and Jaffa, Tel Aviv is the country's artistic center."
Sionah thoroughly enjoyed her time in Safed. She dedicated her mornings to painting and her afternoons to meeting her artist friends, whom she often met in the artist colony's club, the Milo club. During her first years there, she lived, worked and even displayed her works on the upper level of her home. Later on, she fulfilled her dream of establishing a gallery on the building's lower level, where she could display her works. This was a complicated engineering feat, since it required clearing the rooms, with their vaulted ceilings, of the dirt that had accumulated there for over ten years. Visitors entered the gallery through a charming yard filled with red geraniums, fig trees, grapevines and pomegranate trees, which the artist tended to with devotion. Although the pomegranates were inedible, the grapevines and fig trees produced wonderful fruit, which she distributed in small quantities – saving most of it for her visiting family members and grandchildren. A blue metal crib stood in one corner of the yard; Sionah had painted it the same shade of blue typical of Safed's Arab and Jewish homes – a hue believed to ward off the evil eye, and perhaps even to draw divine powers closer to the terrestrial realm.